Mykonos is the most famous and cosmopolitan island of Greece in the heart of the Cyclades and the Aegean Sea.
The island's capital town (Hora) a tribute to Cycladic architecture, spreads out over a wide area, with whitewashed houses with colourful doors and window frames, cobblestone narrow streets, churches and bougainvillea trees, fascinates its visitors.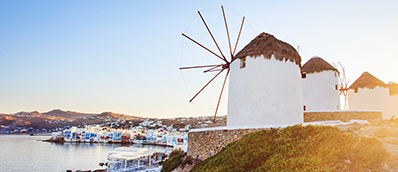 One of the most picturesque corners of the island is "Alefkandra" or "Little Venice", an 18th century district, dominated by grand captains' mansions with colourful balconies and stylish windows and balconies perched over the sea, bringing to mind pictures of the famous Italian city. A little further, on a low hill, Mykonos's famous windmills, having stood for centuries, compose a picture of unparalleled beauty in combination with colored domes and bell towers of the countless churches.
Wander around Hora's pedestrian streets, the most glamorous of all is Matoyanni Street and feel the island's cosmopolitan aura.
Immerse into Mykonos's unique atmosphere and feel the energy of the "island of the Winds". Discover sun-kissed beaches with cosmopolitan character, such as Psarou, Ornos, Paradise, or wander around serene beaches such as Houlakia, Kapari, Ayios Stefanos, Lia, Agrari. Explore the island on a caicque or a boat and discover secluded beaches, or take a boat tour around the nearby islets. Dive into history and explore the sacred island of Delos, true archeological gem.
Discover a real town with its streets and markets, public buildings and temples, luxurious houses and shops, cisterns, columns, mosaics, bathed in perennial sunlight sent by the god Apollo, giving the visitors the impression that they stopped functioning only yesterday.
Mykonos renowned for it's nightlife and the jet-set cosmopolitan crowd it attracts, offers its visitors an incomparable holiday experience. Our villas in Mykonos offer unique villa holidays in one of the most cosmopolitan locations of the world.
Mykonos villas with their distinctive character, their impressive Cycladic architecture, their stunning views of the Aegean Sea, their luxury and privacy invite you to experience a once in a life time villa holiday in Greece.